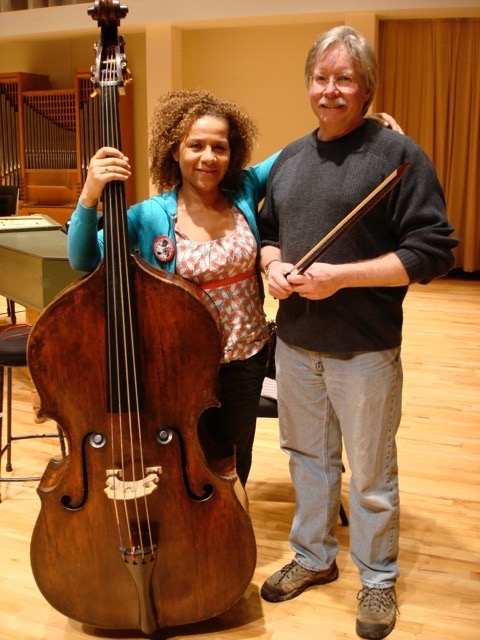 John Michael Smith became interested in instrument repair and maintenance while visiting Walter Hammer's shop in Portsmouth, Virginia, during high school and college. He completed a Bachelor of Music in Double Bass Performance at East Carolina University in 1975. In his senior year, he performed with the Norfolk Symphony.  In 1976, he entered the Masters program at The Ohio State University, studying with Dr. Theron McClure, and became a member of the Columbus Symphony.  In 1977, he began his training at the Loft Violin Shop in Columbus, Ohio, working with Richard and David Schlub. During this period, he began studying double bass with David Perlman, Principal Bass of the Cleveland Orchestra.  Also at that time he began studying and working on Mr. Perlman's collection of fine old Italian basses and many fine bass bows.
After moving to St. Paul, Minnesota in 1980, he began working at House of Note, a string instrument shop in St. Louis Park, and also in his home shop. In 1981 he opened his own shop, John Michael Smith, Luthier.
John Michael Smith was selected to attend the Violin Society of America Violin Restoration Workshop in both 1988 and 1989. The workshop was held at Oberlin College and directed by Vahakn Nigogosian. In Oberlin, he had the opportunity to work and discuss violin restoration with Hans Weisshaar, Luiz Bellini, Kenneth Meyer, Joseph Robinson, and others. He also attended the VSA's Oberlin Bow Restoration Workshop, directed by Yung Chin, in 1991 and 1993.
John Michael Smith has been an exhibitor at the International Society of Bassists Conventions, beginning with the first convention in 1984, and often makes presentations for the Minnesota chapter of the American String Teachers Association, as well as local double bass presentations and workshops.
His clients are musicians from around the world as well as the Minnesota Community, including those of the St. Paul Chamber Orchestra, Minnesota Opera Orchestra, and the Minnesota Orchestra.
Musical Activities
Principal Double Bass of the Minnesota Opera Orchestra
Other ensembles he frequently performs with: 
Minneapolis Pops Orchestra, Mill City Summer Opera
Performed, recorded, and toured with both the St. Paul Chamber Orchestra and Minnesota Orchestra
Former member of the Columbus Symphony
Former member of HELIOS chamber ensemble
Free-lance musician in the Twin Cities

Education
Bachelor of Music from East Carolina University
Master of Music from The Ohio State University